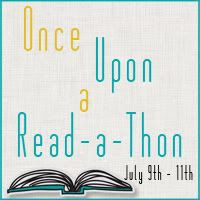 It's Day 3, the wrap up day of this readathon, and here's what I got through:
So I didn't get to Cold Mountain this week, but I plan on reading it some day. As for my weekly picks: I completed TARR and plan on reading Tears of the Giraffe on Friday so I will have completed both of those this week. Overall I think this challenge went a lot better this year than it did last year! So I'm glad for that.
Here's your answers for the mini challenge, hosted at the Reader Bee.
What is your most anticipated book for 2012?


(It can be an upcoming release, or one that's already been released.)
Even though I know it most likely defeats the purpose of the question, I can have more than one answer, right? As yall know I always have to have more than one.
I've already pre-ordered this one on Amazon.
I'm getting this one through the DAC tour and am so excited for it!
I'm pretty sure this one came out. Have heard so many excellent, terrific, awesome reviews of it. So I totally look forward to readin' it.
Okay, those are my top 3 new releases, so I guess that's good enough. Although I could keep going...