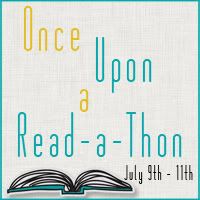 Well I finished I A Gift from Brittany. A bunch of books that I had requested from the library came in yesterday, so I have a whole bunch of new books to read besides the 3 I wanted to read. So I am currently reading The Choice by Nicholas Sparks. If I have time I am going to see if I can get to Cold Mountain, because I now have a lot of other books to read! I've decided to save Snow Falling on Cedars for another time, because I'm going on a missions trip next week, leaving Saturday and I don't want to start it and then not finish it.
Each week I pick out books from my bookshelf that I am going to read and this week's picks were Cold Mountain (as I've said) and the Art of Racing in the Rain. I hope to get through them during this readathon. I haven't been reading that much because I've been going to the pool. But tomorrow (Wednesday) I plan on getting a LOT of reading done.
On to the mini challenges.
Once upon a time there was a bookish fight…
As the story teller, I now want
you
to tell me which two characters are fighting and WHY! If you want to, you're also more than welcome to guess the outcome. ;)
It doesn't have to be anything too detailed; we're here to have fun!
Katsa from Graceling and Lena from Delirium are paired up to be running buddies in the Wilds. While they are running, Katsa says she can run faster and is tougher than Lena. Lena disagrees and they end up arguing which turns into a mad and wild race. At the end they get into a fist fight of who won because they both crossed the line at the same time. As much as I love Lena from Delirium and as tough as she is, I think Katsa takes the victory.
Simply share a foreign author whose work you adore. I personally am from the United States but we may have readers from all over so just make sure the author you share is from a country other than your own. Tell us why you like them. Are there any books by them in particular that you would recommend? How did you come across their work? The whole point is to share and allow us all to discover a new author that we might otherwise never have been exposed to..to literally open up a whole new world of books for one another.
I'm the type of person who likes books about Americans who go overseas and are forever changed by their experiences that by going to a new place they are able to become new people.
Examples of books I have read that are like this are
I just love books on people going from place to place in search of themselves. Love those stories. They are the best ones.
As for books that are written by international authors and are set outside the US, I would recommend
There are so many other books I could recommend, but I'm going to wrap this up and do somethin' else. Have a great one and please comment below about these mini challenges and if you want some more recommendations, just ask and I'll give them. Leave your links below and I will get back to you. Lookin' forward to yalls' answers!